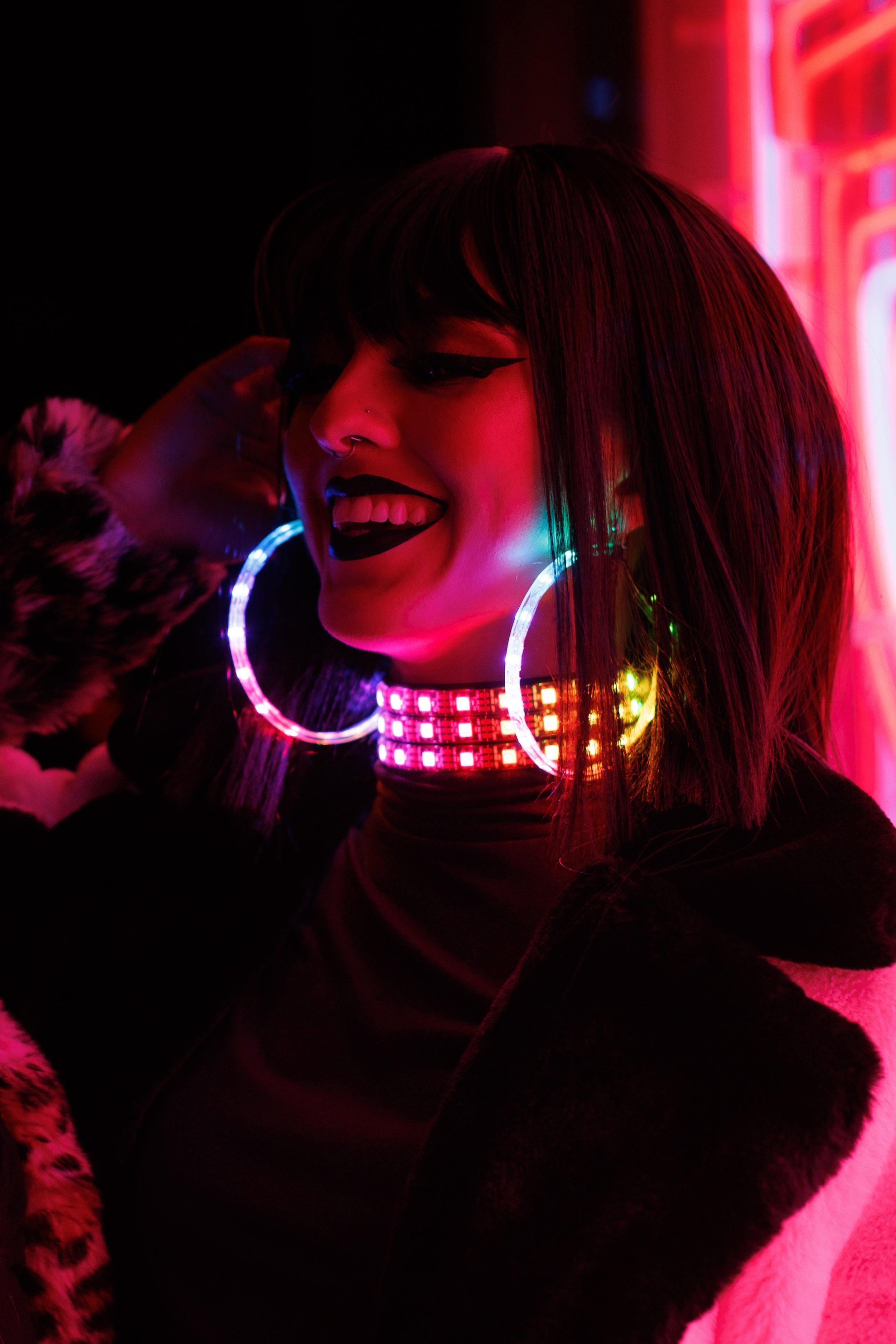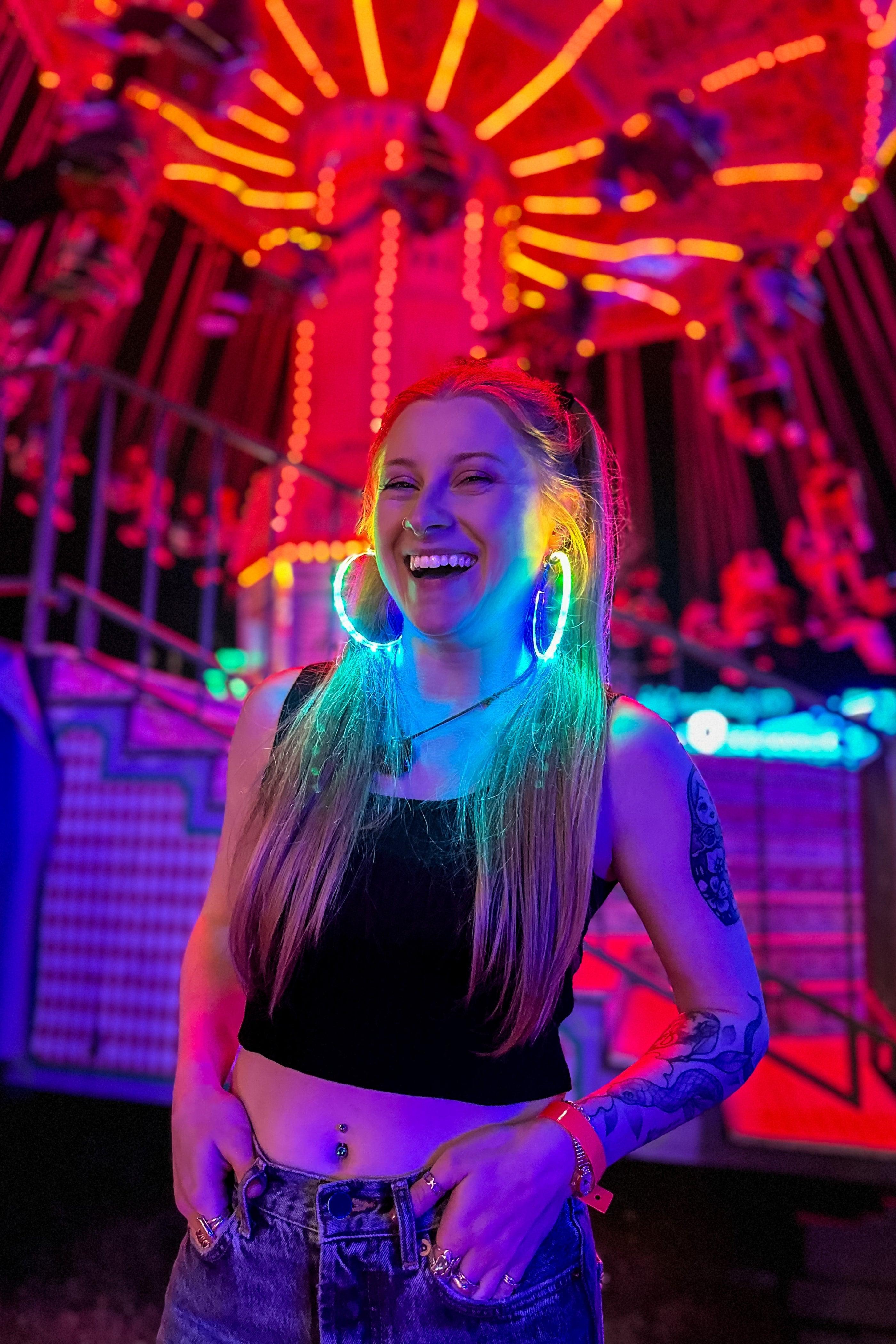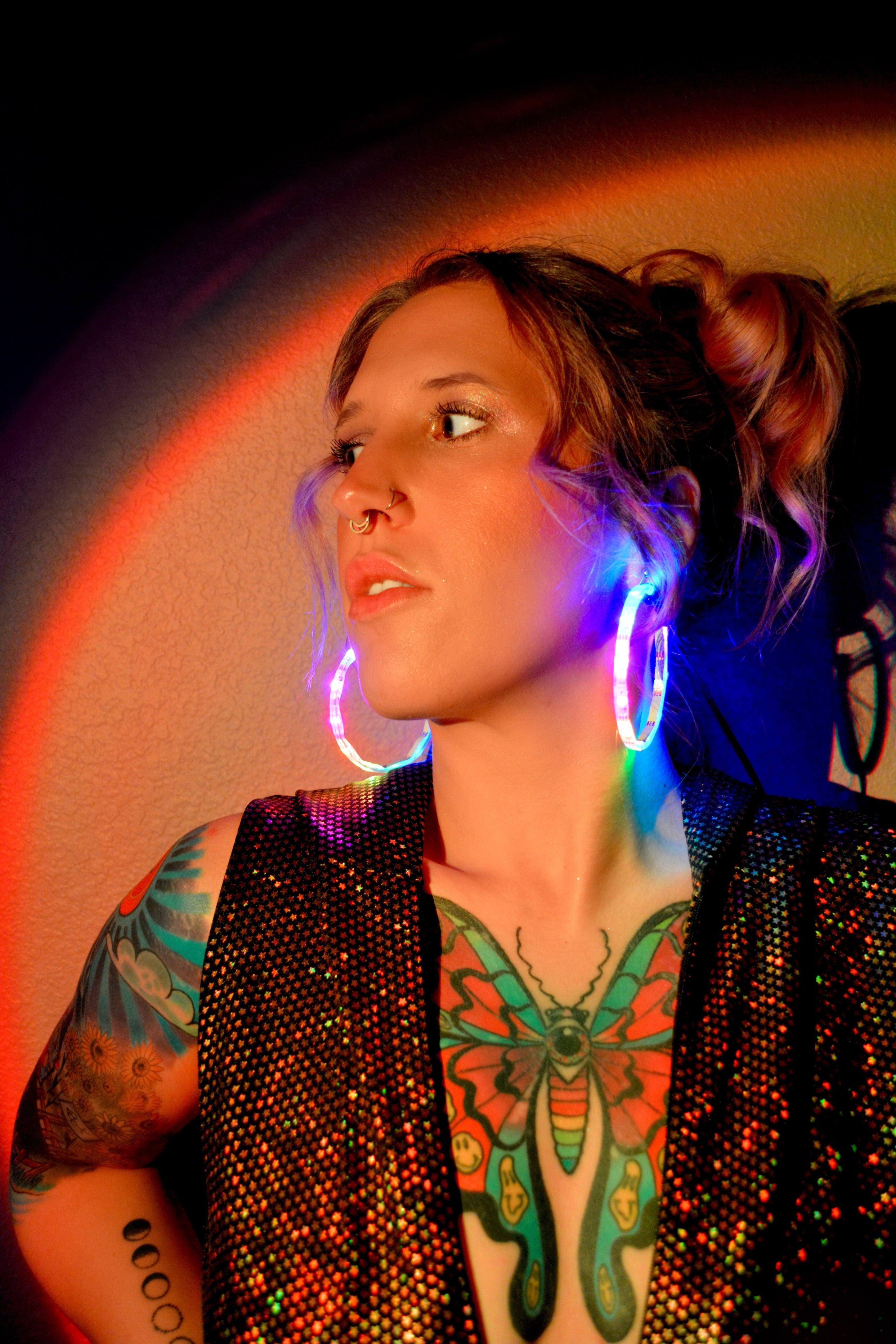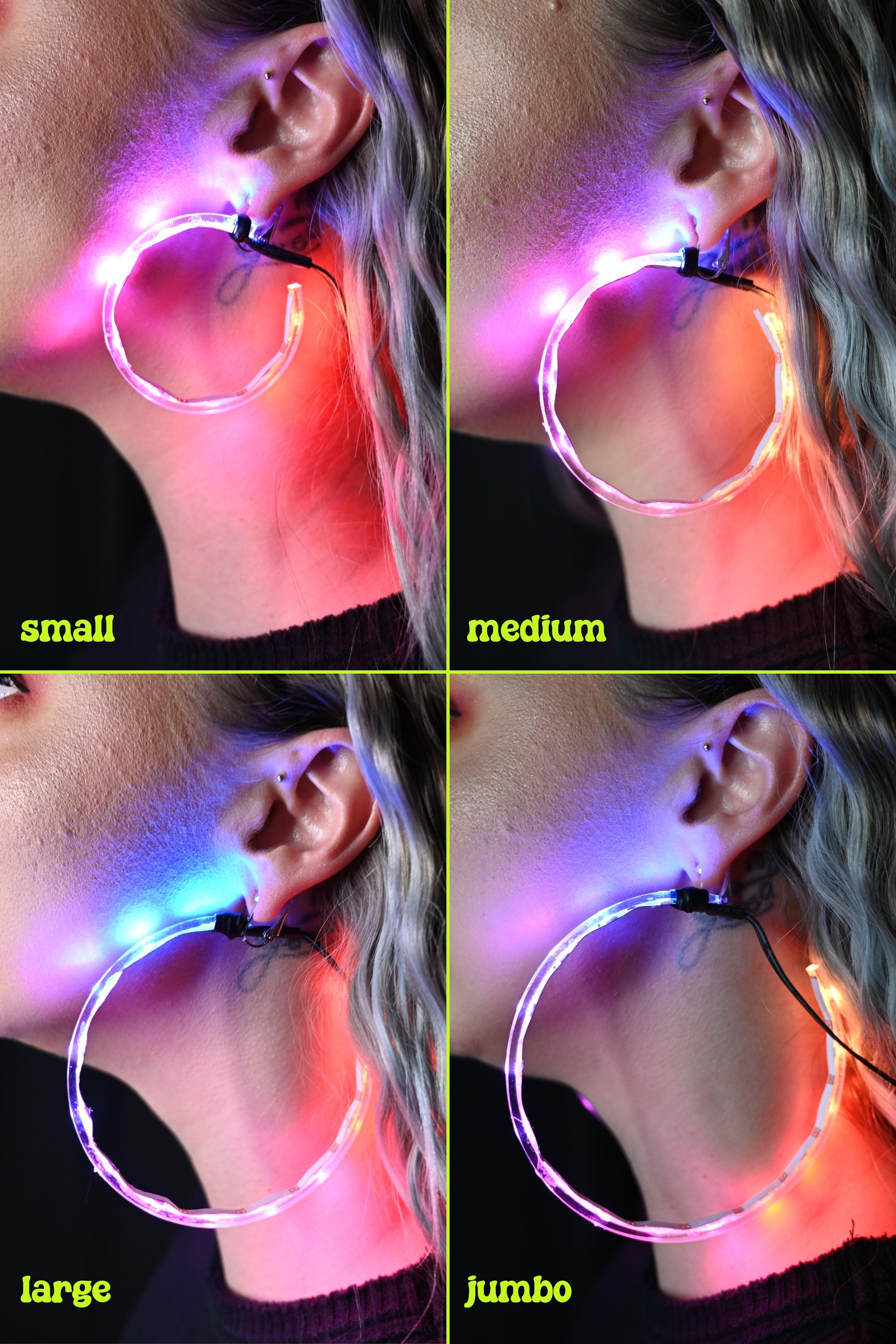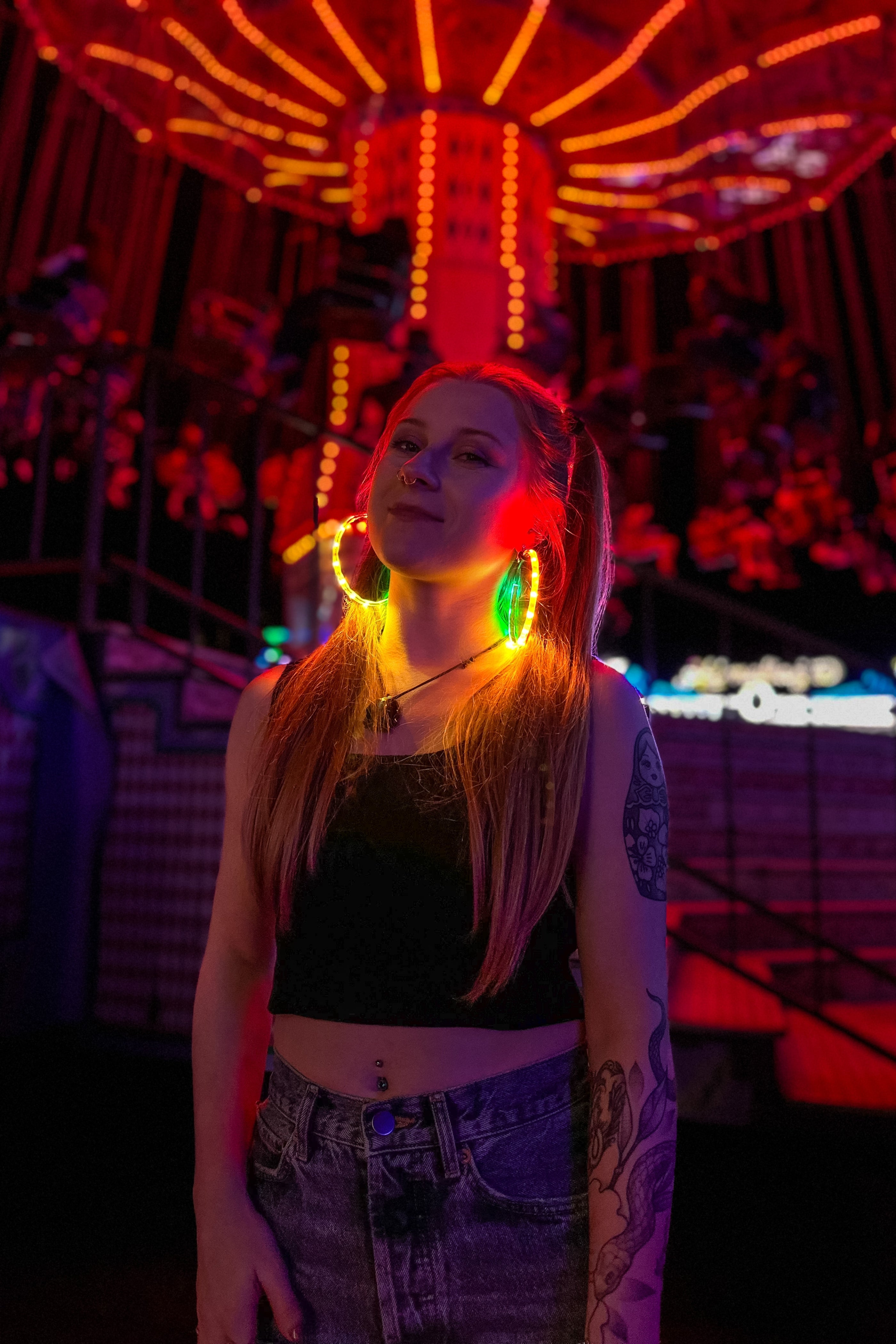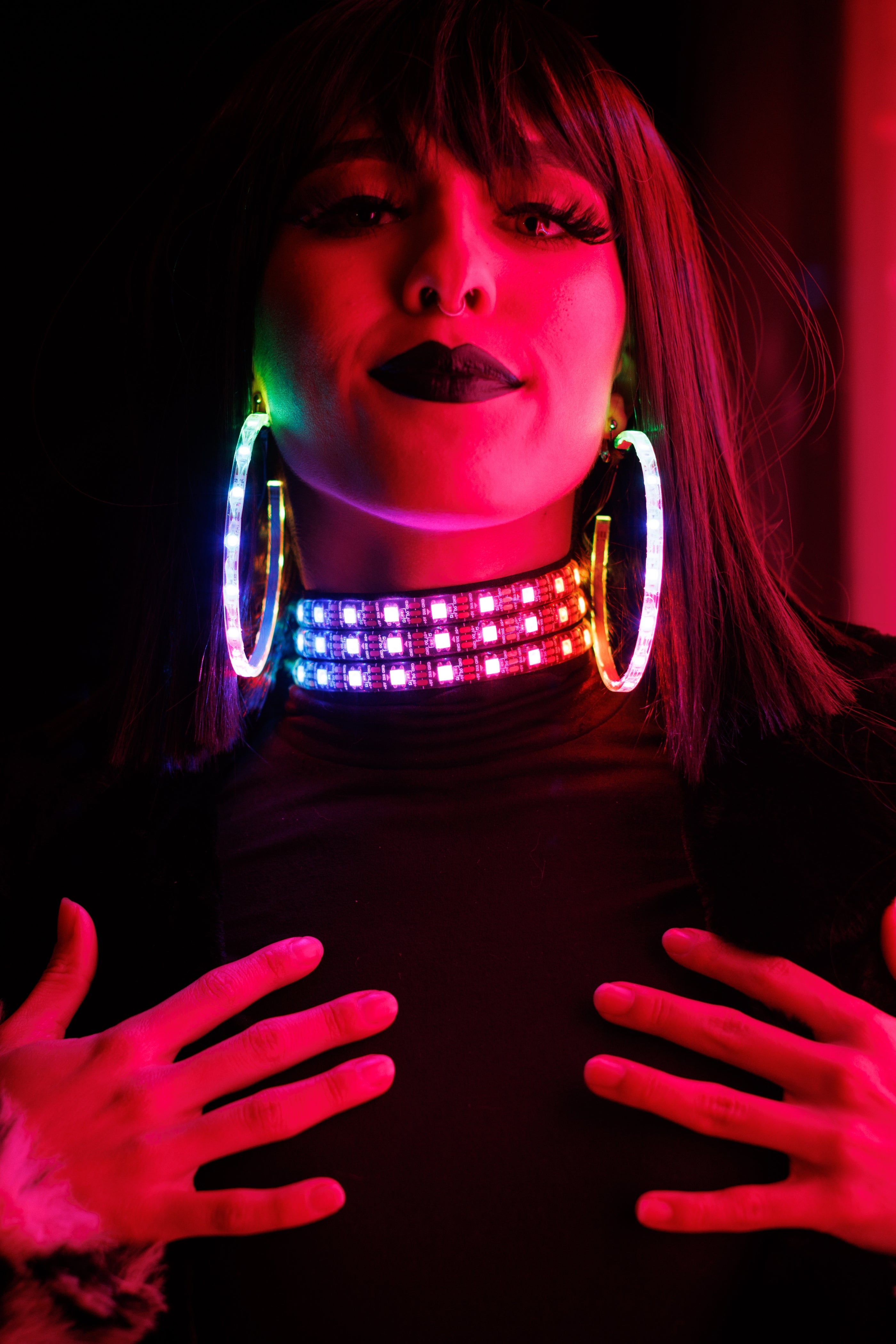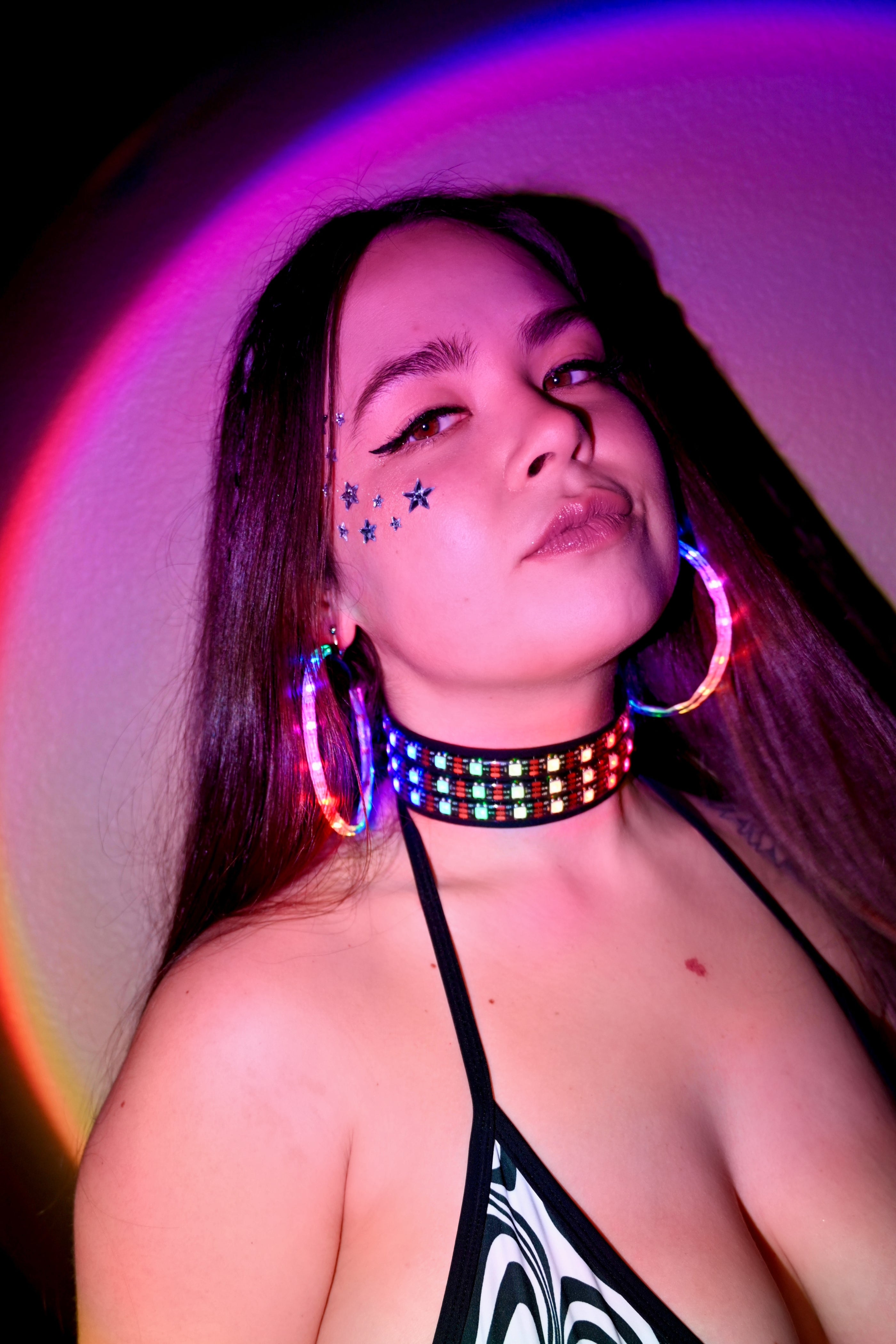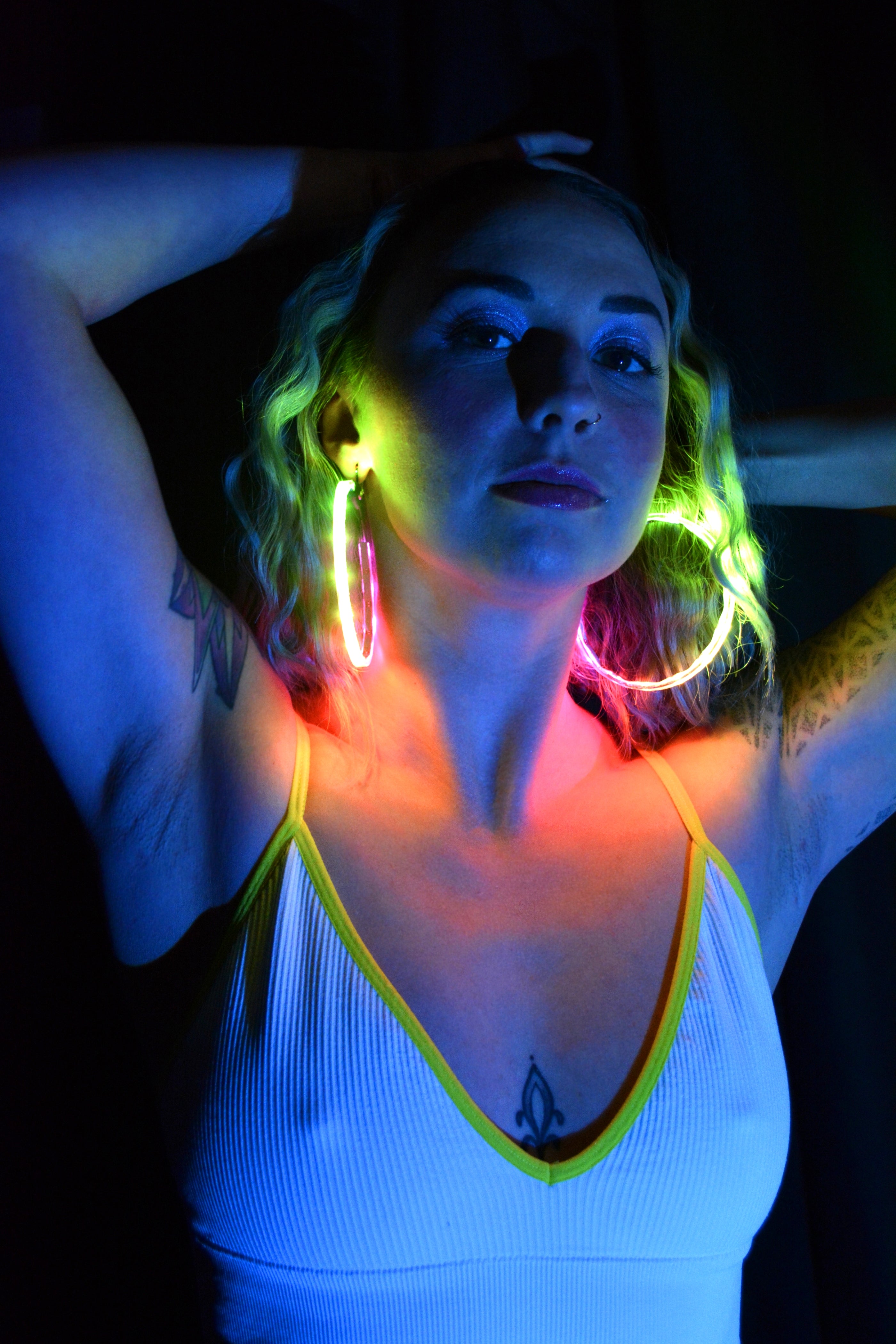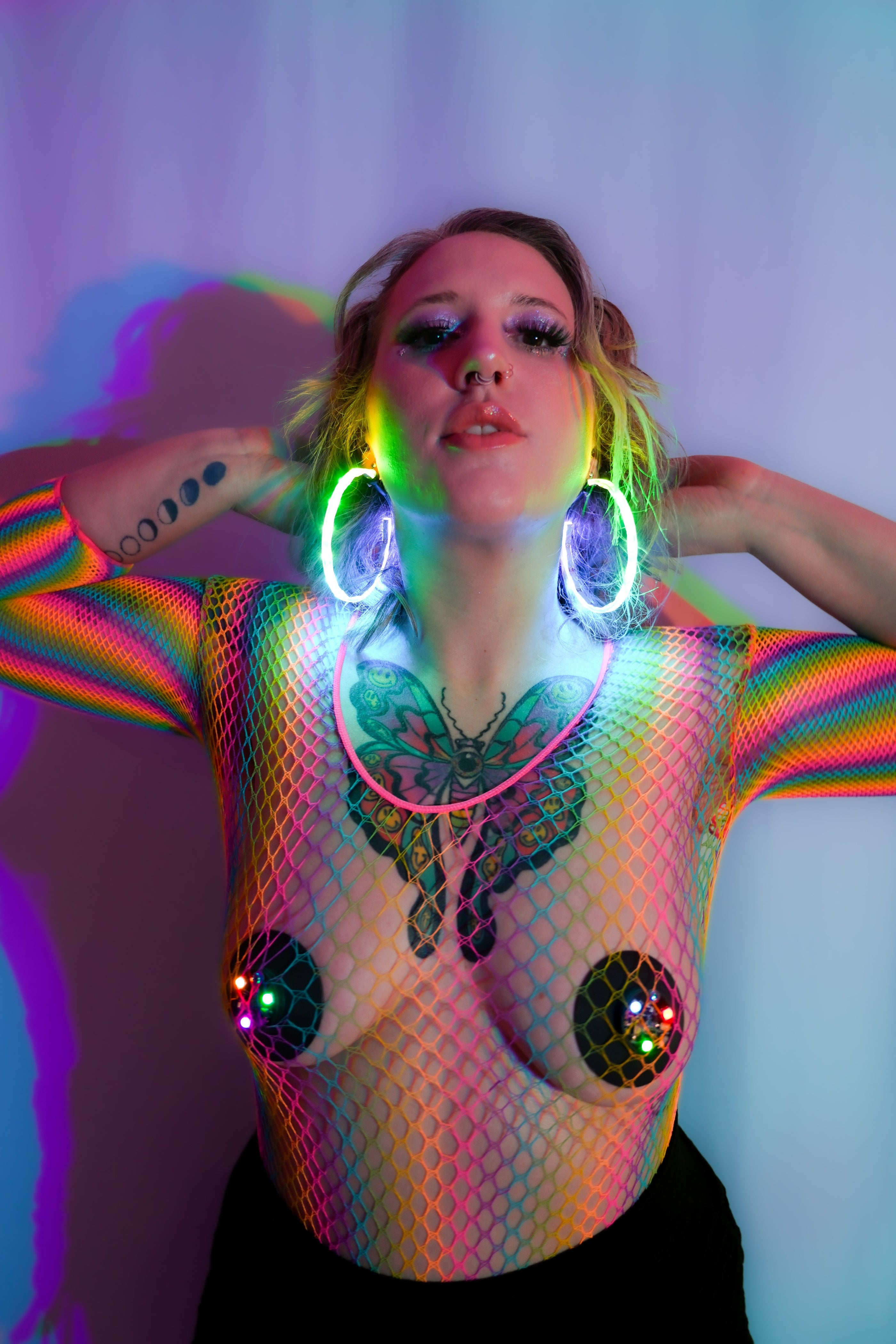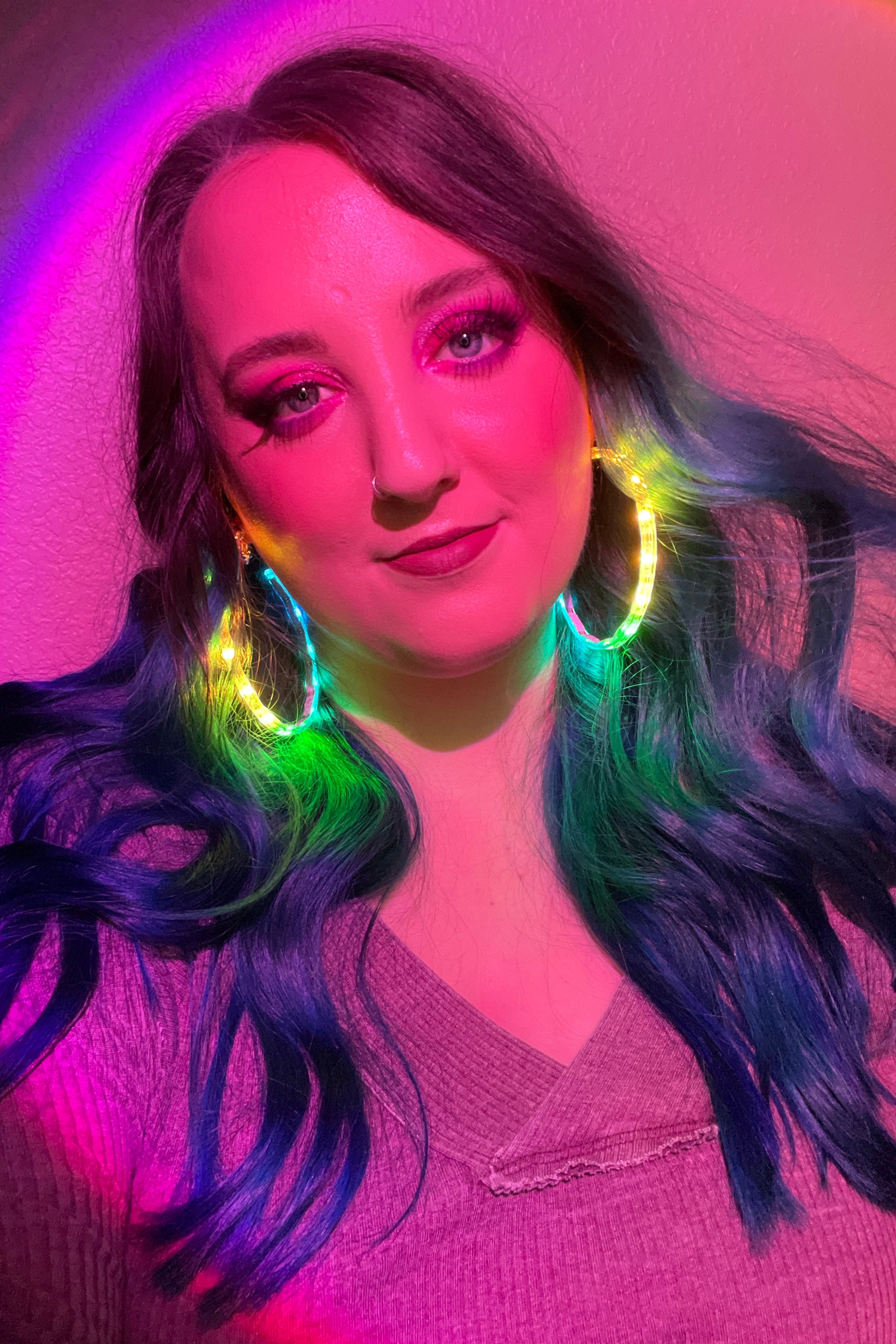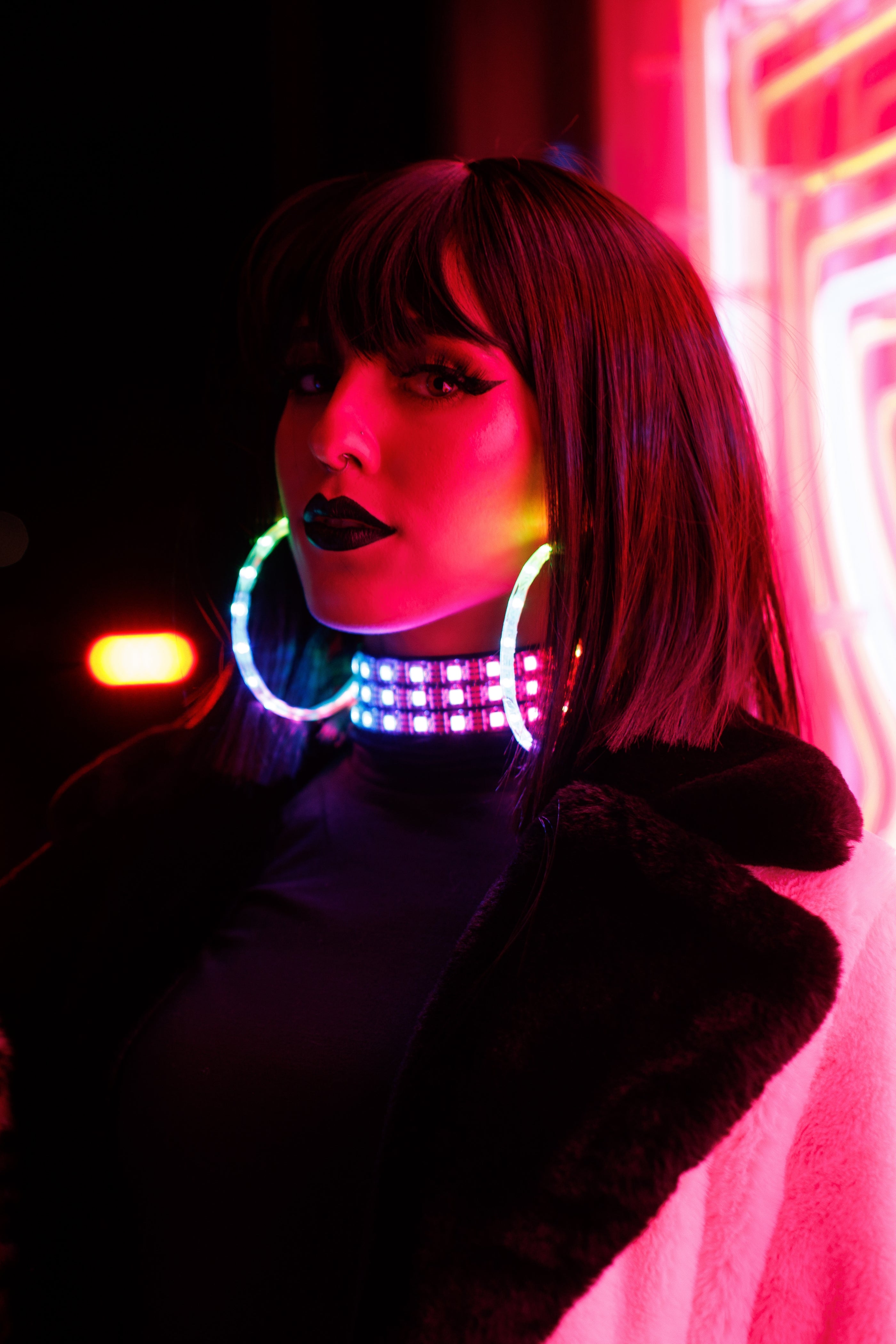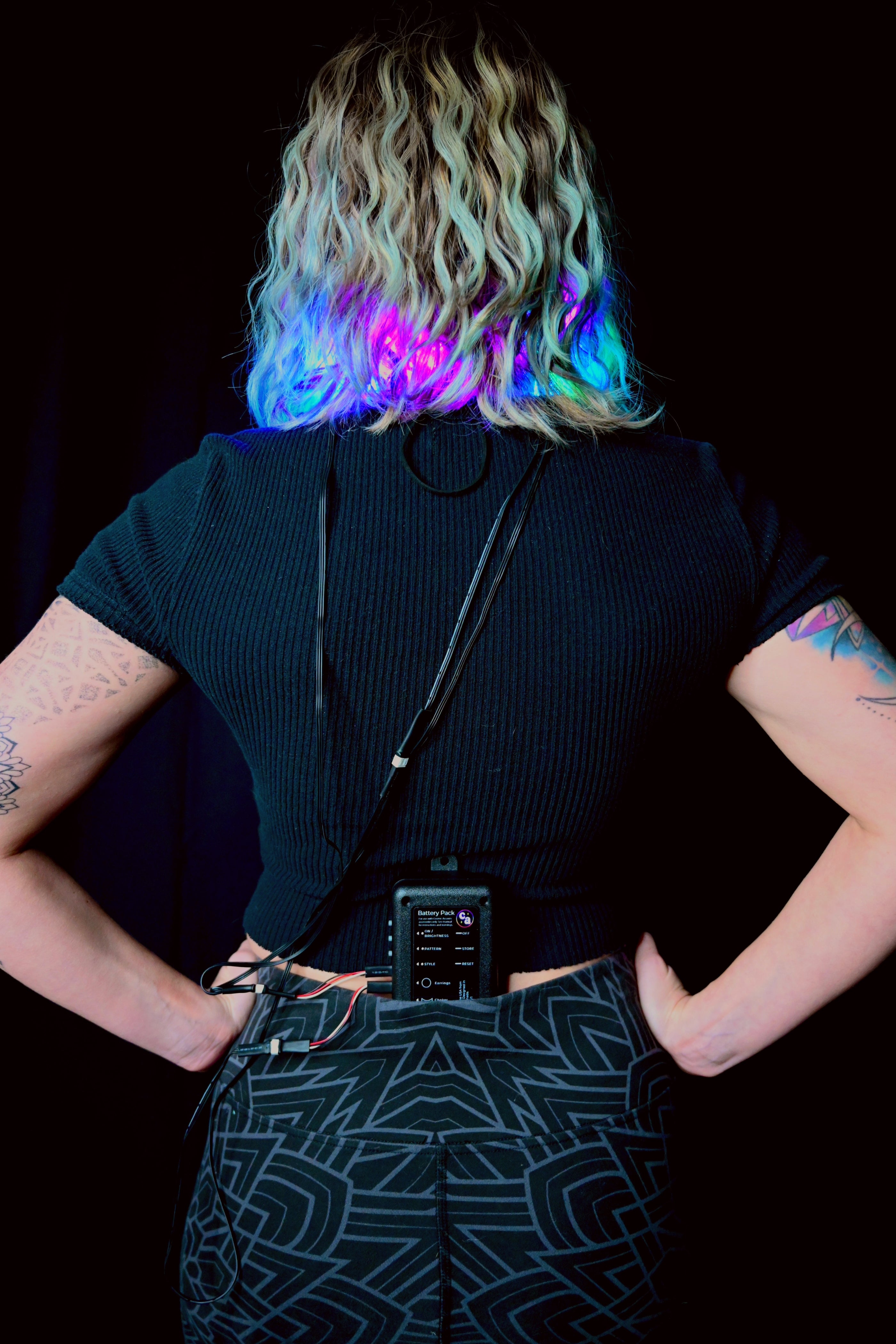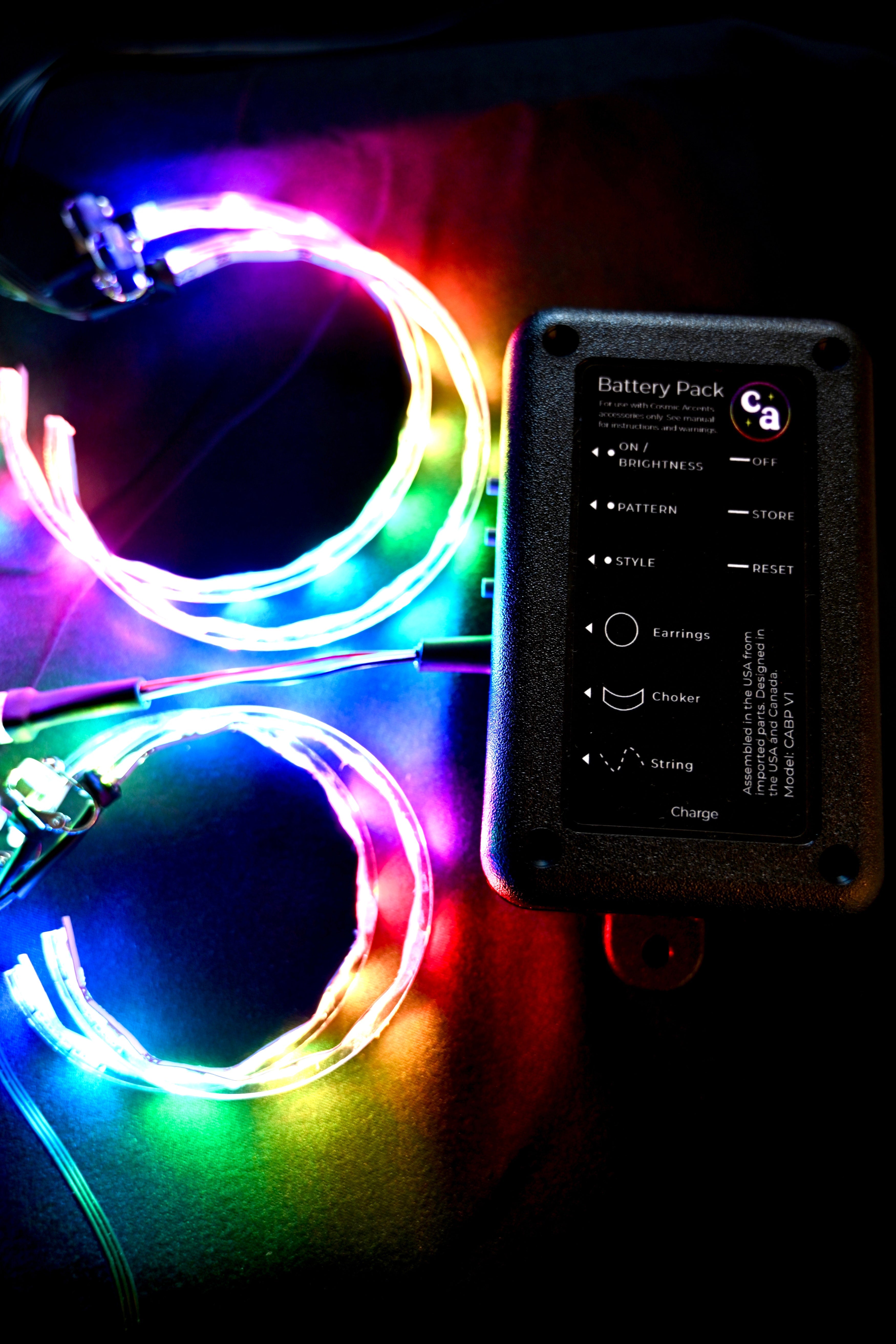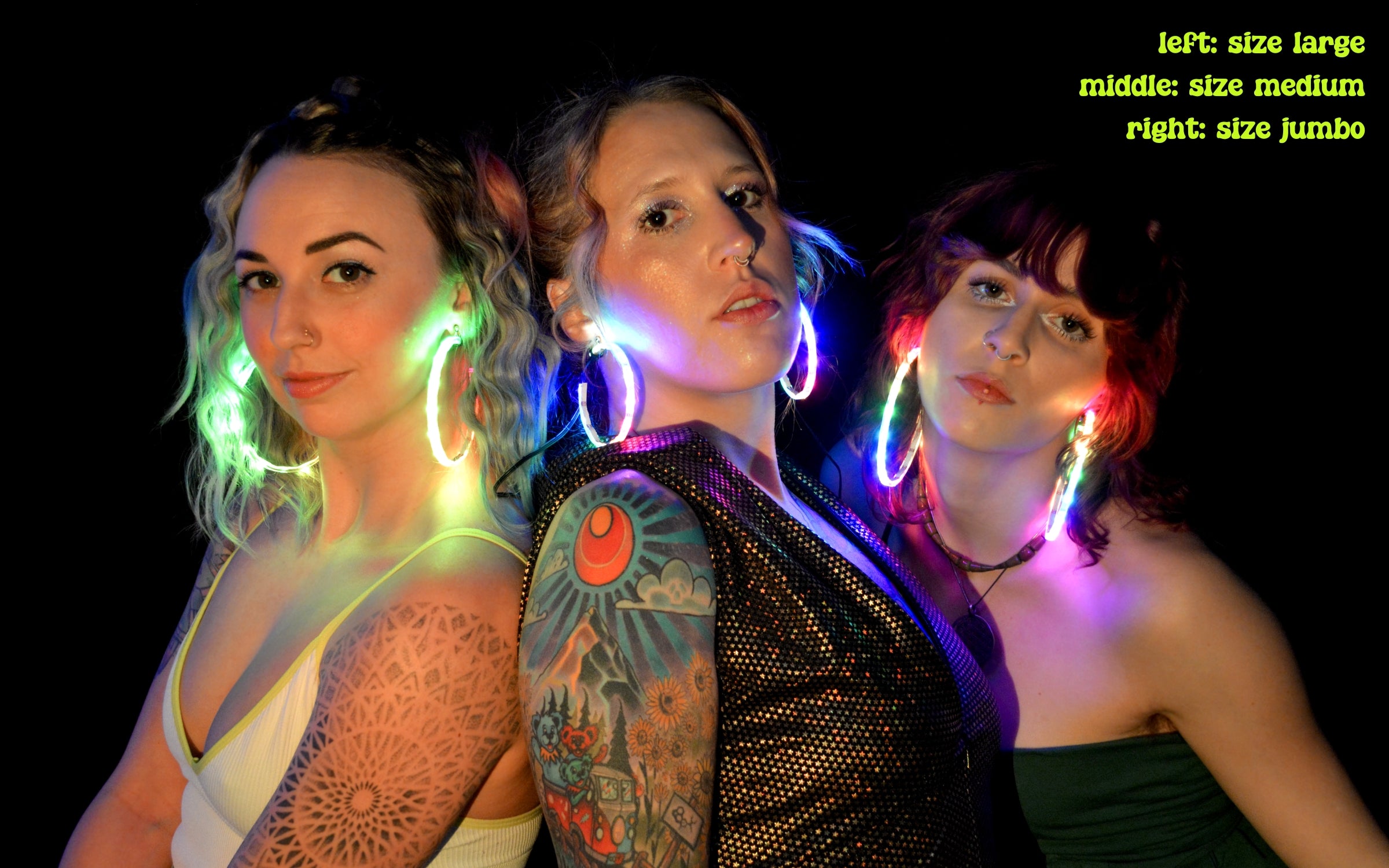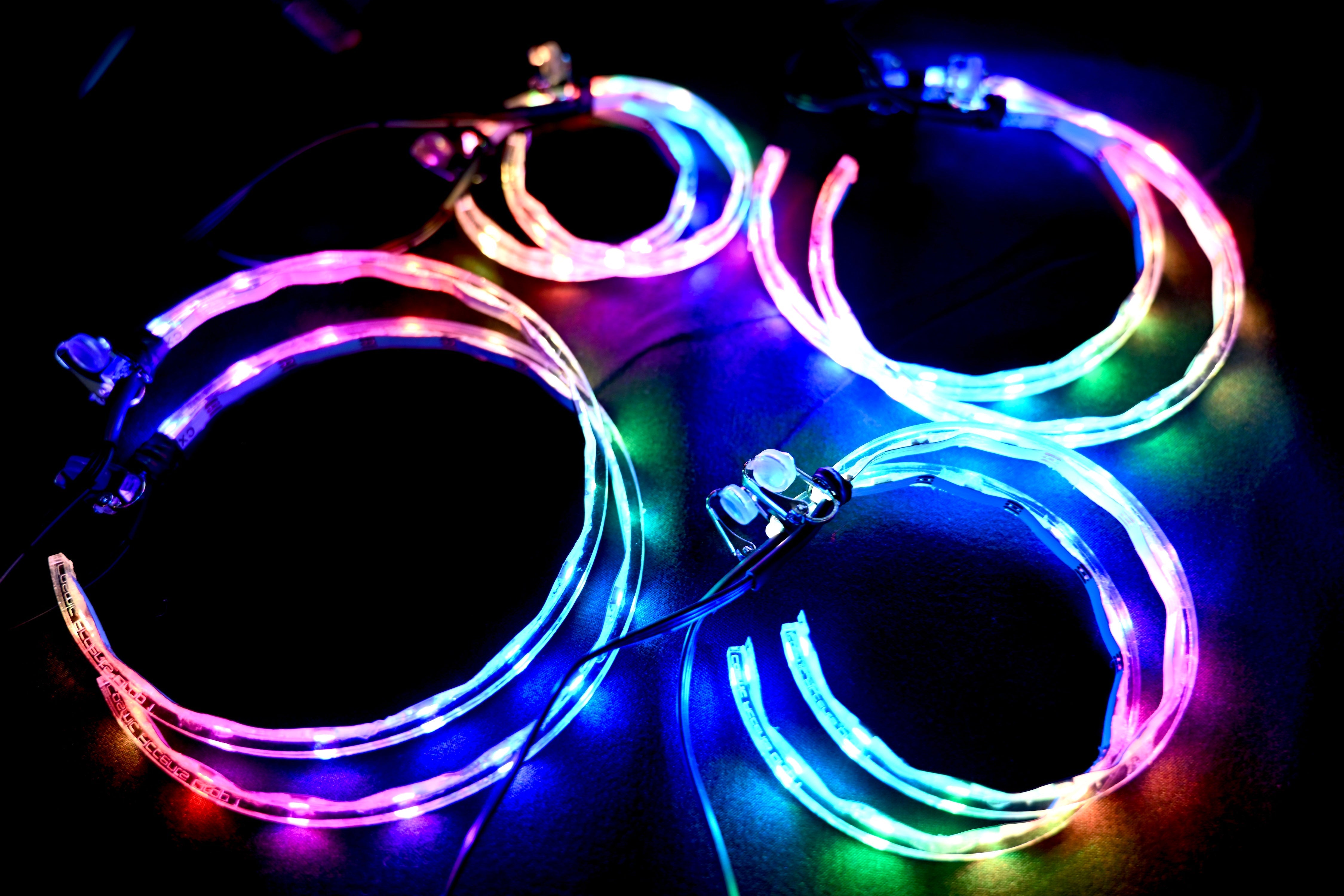 LED Clip-on Hoop Earrings with Battery Pack
---
Looking for an accessory that really sparkles? These LED Clip-On Hoop Earrings are perfect for you. Flashy and fun, these battery-powered earrings will give you hours of bright, colorful light. Add some sizzle to a night out on the town, or your next festival —no matter the occasion, these earrings will light up your night.

These earrings are powered and controlled by a separate battery pack which is included. The battery pack can also power our choker necklace, and coordinate looks between the two.

Just want the choker? Click
here.
Pick your earring size, plug in the battery pack and you are ready to go!

Hoop Earrings Info:
Clip-on hoop earrings. The hoops themselves are made of thin laser-cut acrylic for lightweight wear with a strip of individually addressable LEDs. They connect to the battery pack with thin black wires.

Battery Pack Info:
Battery Life: 3-4 hours (4 brightness settings available to extend battery life)
Size: 4" x 2.5". Weight: 5 ounces.
Lightweight & easy to secure/tuck away. The battery pack can be charged by a standard USB-C cable. Thin black wires connect the battery pack to one or both accessories. The Battery Pack also has two loops to attach to your outfit or it can be neatly tucked away. The battery pack is more than just a power-source: it includes a microphone and electronics to select your pattern and synchronize all the LEDs. In our testing, everything stayed bright and sparkly for over 3 hours on the default setting and maximum brightness on one charge. The battery pack has three connections that can be used simultaneously, one for the earrings, one for the choker, and one for a future accessory.

Choker Info:
This adjustable LED Choker has three strips of 16 (48 total) chunky LEDs that light up bright and beautiful. The LEDs are affixed to a soft, flexible, faux suede material that will keep your neck nice and comfy. They tie in the back and connect to the same battery pack used by our earrings) - the same sparkly, sound responsive patterns are coordinated between the two when using the same battery pack. Adjustable to flatter any neckline

Earrings Size Diameter:
Small - 2" - 8 LEDs
Medium - 2.75" - 10 LEDs
Large - 3.25" - 13 LEDs
Jumbo - 3.75" - 15 LEDs

• Clip-On Earrings
• 2 extenders (1 ft & 2 ft)
• Soft silicone covers for earrings
• Choker (optional)
• Quick Start Guide & User Manual
CosmicAccents Battery Pack required.
Q - HOW DO THEY WORK?
A - Our accessories, like our hoop earrings & chokers, connect to our custom rechargeable Battery Pack via small, flexible wires.
Our Battery Pack includes a power switch, a sound responsive microphone, and a few buttons to control the patterns, brightness and so on. The Battery Pack can power up to three accessories at a time.

Q - IS THERE MORE THAN ONE PATTERN?
A - Yes - lots of different patterns! The patterns are organized into 8 different modes, which you can think of as "groups" or "folders". We have rainbow patterns, patterns with single colors to match your outfit, sound responsive and non-sound responsive patterns. When you turn it on, you'll see our personal favorite: a sound responsive, full color rainbow!

Q - HOW LONG WILL THEY LAST?
A - The battery pack includes a powerful battery that can keep you glowing for hours. With just the earrings, the Battery Pack lasts over 3 hours on full brightness in the default setting. The battery will drain quicker with 2 accessories plugged in, and may drain faster on other modes. You make the Battery Pack last longer by lowering the brightness.
You can easily charge the Battery Pack with a USB-C cable.
Attending a concert or rave? They should last the whole night!

Q - HOW DO I WEAR THEM?
A - Our lightweight hoops are clip on earrings - no need to pierce your ears to wear these! For hands-free wear, place the battery pack in your pocket, fanny pack, or slip it in between your back and bra clasp. Creator Bjorn likes to tuck the wires in their hair with a hair clip to keep them up & out of the way. Our choker includes an adjustable cord to easily undo and tie back up. It will take you a minute to get setup, but the results are worth it!

Q - HOW DO I USE THE BATTERY PACK?
A - There are three buttons:one to power on accessories, one to select a pattern, and the third to select your style of pattern.
Power on your accessory to find our favorite setting - the sound responsive rainbow.
Click the Pattern button to flip through the different patterns. Once you find one you like - click the style to see different varieties of the selected pattern.
To adjust the brightness: Click the ON button. 4 different brightness settings are available.
To turn off: Click and hold the power button.
Refer back to your manual that was included with your order for more information
This product has no reviews yet.